single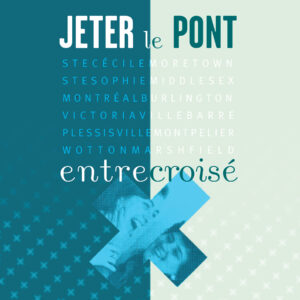 Acheter | Purchase
Uniquement en format numérique. Achetez direct de l'artiste – téléchargez l'album en format MP3. Buy direct from the artist as an MP3 download. Available in digital format only. PayPal-Visa-MC. 10.00$
(1992, Minuit dans la cuisine, MINCD-001) Premier album de duo vermontois Jeter le Pont (Martha Pellerin, Dana Whittle). First release by Vermont duo Jeter le Pont (Martha Pellerin, Dana Whittle).
Martha Pellerin : voix/vocals
Dana Whittle : guitare/guitar, voix/vocals, accordéons/accordion, podorythmie/foot percussion, mandoline/mandolin
Invités/Guests : Sid Blum (accordéon/accordion), Claude Méthé (violon/fiddle, voix/vocals, guitare/ guitar)
Réalisé par/Produced by : Jeter le Pont
Prise de son/ Sound engineer : David Levine, SoundImage, Marshfield, Vermont
Mixage, matriçage/Mixing, mastering : André Marchand, Jeter le Pont
La plupart des chansons présentées ici ont été receuillies dans le vaste répertoire de la famille de Martha, père et mère tous deux Pellerin; tant au Vermont qu'au Québec. Les paroles ont été trouvés sur des bouts de papier, des vieux carnets, des cartons d'emballage de paires de bas et parfois sur l'envers d'une page de calendrier. Aucune notes de musique n'accompagnaient toutes ces chansons manuscrites, autres que dans la mémoire des gens qui nous les ont chantées. Nous avons l'habitude d'emporte "la collection" de Martha quand nous partons jouer, toujours à l'affût d'une mélodie inconnue ou d'un couplet manquant. Le recuil de plus que 700 chansons pèse autour de 65 livres, à peu près .0928 par chanson! Toute la richess de ce patrimoine s'éteint rapidement aux États-Unis ainsi qu'au Québec. La majorité des Franco-américains agés de moins de 40 ans ne parlent plus le français. Ici depuis un, deux ou plusieurs générations, ils ont presque tous abandonné l'usage de leur langue maternelle. Suivant le conseil des parents, il se sont vite integrés à la culture américaine. Nos amis québécois nous disent la même chose : la musique et les manières d'autrefois disparaîssent graduellement; le mode de vie moderne nord-américain où la distance n'a plus d'importance est une menace sérieuse pour la transmission des traditions. Jeter le Pont se consacre à la découverte, la rédécouverte et plus important, à jouer et chanter cette musique pour la garder en vie. Notre point de vue est colorié par notre culture régionale et ainsi différent de nos voisins québécois, mais nous croyons qu'il est valable, et nous espérons de le définir via notre musique. Entrecroisé est l'image d'un échange "musi-coeur" entre le Vermont et le Québec, aussi des voyages de long en large en traversant la frontière que nous préferons à regarder comme une ligne imaginaire. – Martha Pellerin & Dana Whittle
Most of the songs on this recording came to us from the enormous repertoire of Martha's familhy (both parents are Pellerins) in Vermont and Québec. Words were found written in tattered notebooks, on scraps of cardboard (that once held nylon stockings) and on the backs of outdated calendar pages. Few of the 700+ pages in Martha's huge pile of 3-ring binders contain musical notation. Usually, melodies come to us from the person who sings us the song. We're in the habit of carting around "the collection" because you never know when or where yhou'll find someone who knows a tune or a missing verse. We estimate that all of theses songs together weigh around 65 pounds or about .0928 pounds per song! Most Franco-Americans under the age of 40 do not speak French. They are either second generation Americans or were encouraged to quickly assimilate local culture in order to better fit in. On our trips to Québec we hear the same story – the music and culture is disappearing bit by bit. Our transient, spread-out way of life in North America is making the cultural thread thinner and threatening the passing on of important traditions. Jeter le Pont is dedicated to discovering, rediscovering and most important, playing and singing this music, for the joy of keeping it alive. Our perspective is colored by the culture of our region and therefore different from that of our Québec neighbors, but we believe it is valid and we strive to give it better definition through our music. Entrecroisé represents an edchange of "musical hearts" between Vermont and Québec, one that has instigated many trips back and forth over what we prefer to think of as the imaginary line. – Martha Pellerin & Dana Whittle
Sur l'album | Tracklist
Écouter extraits. Listen to samples.