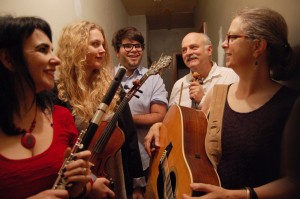 Claude Méthé fiddle, guitar, vocals | Dana Whittle guitar, vocals, foot percussion, accordion | Denise Levac flute, vocals | Colin Savoie-Levac banjo, mandolin, guitar mandola, foot percussion, vocals | Béatrix Méthé fiddle, vocals
Folk-trad "family band" Dentdelion is a playful bend in the tangled roots of traditional Québécois music. While solidly rooted in Québec tradition, the group remains open to new ideas that keep this vibrant lineage alive and kicking. Dentdelion borrows its name from the plant – dandelion, or "pissenlit" in Québec French (a reference to its diuretic medicinal qualities). Like our ancestors, this flower originally came from far away to be planted in North American soil where she has toughed the climate and resolutely reseeded with each gust of wind.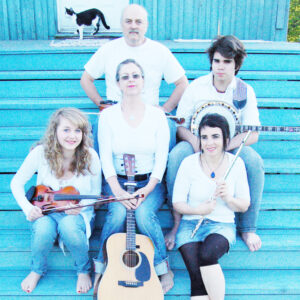 From its beginnings in 1994, Dentdelion has been an amalgam of personal cultures : those of Claude Méthé (Québec) and Dana Whittle (New England). They've since been joined by Denise Levac, veteran trad flutist from Québec's musically rich Lanaudière region and more recently by a new generation comprised of the young and talented Colin Savoie-Levac (son of Denise) and Béatrix Méthé (daughter of Claude and Dana). The trio live in this region, considered by most to be a sanctuary for traditional Québécois music, which is being recognized more and more for its beauty and many qualities that include a refreshingly simple form but complex execution; music that breathes unequivocal spontaneity and vibrancy.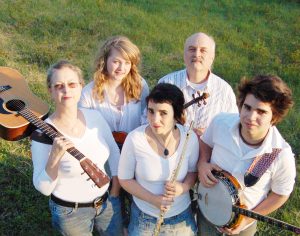 Dentdelion's emphasis is on original music that is heavily inspired by tradition, with familiar form and delivery – rejigs of centuries-old songs, brand-new ones created from scratch or melodies melded with lyrics with long-forgotten melodies. Picking up the tradition where it left off, Dentdelion heads into what is perhaps best described as "folk-trad" territory – strictly due to its newness – yet they never stray far from the essential Québec sound with its omni-present fiddle, tapping feet and unique swing. Guitar accompaniment, flute, vocal harmonies, a capella arrangements, the raw and the refined come together to create a rich sound that is both intimate and energized, seemingly bigger than the sum of its parts and definitively, unescapably Québécois! Dentdelion has brought their fresh sound to audiences in Québec, Canada, the US and Europe.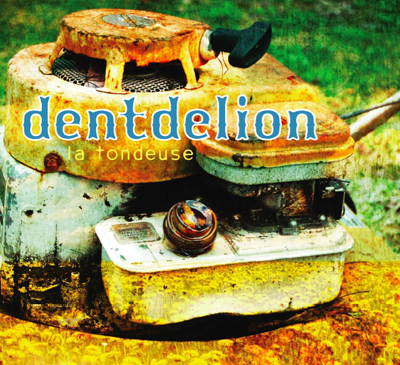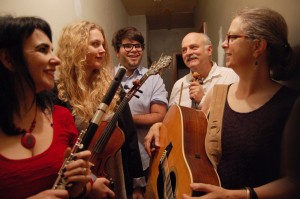 Claude Méthé violon, guitare, voix | Dana Whittle guitare, voix, podorythmie, accordéon | Denise Levac flûte, voix | Colin Savoie-Levac banjo, mandoline, guitare, mandola, podorythmie, voix | Béatrix Méthé violon, voix
Formation familiale «folk-trad», Dentdelion s'inscrit dans une lignée musicale québécoise. Bien enracinée dans la tradition, elle reste ouverte aux nouvelles idées qui font que cette musique demeure vivante. Dentdelion emprunte son nom à la plante de pissenlit que l'on nommait jadis ainsi. Tout comme nos ancêtres et notre musique, cette fleur dentelée venue de loin s'est implantée en terre d'Amérique. Elle résiste, dure et sème à tout vent.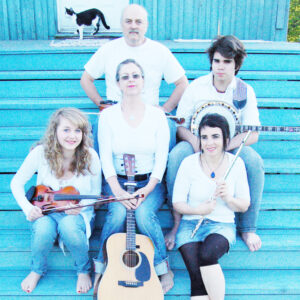 Depuis sa naissance en 1994, Dentdelion représente un amalgame de cultures personnelles : Celles de Claude Méthé (Québéc) et Dana Whittle (Nouvelle-Angleterre), auxquelles se sont ajoutées celles de Denise Levac, Lanaudoise (Québec) de longue date et encore plus récemment, une nouvelle génération avec l'addition de Colin Savoie-Levac (fils de Denise) et Béatrix Méthé (fille de Claude et Dana). Ils se sont établi dans la région de la Lanaudière qui est considérée comme étant un sanctuaire de la culture traditionnelle au Québec. On reconnaît de plus en plus la qualité de cette musique; simple dans sa forme, mais complexe dans son exécution, elle transpire une spontanéité et une vivacité sans pareille.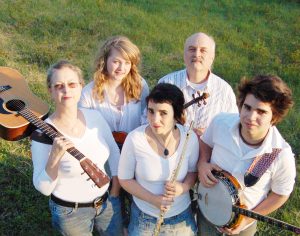 Dentdelion mets l'emphase sur une musique originale d'inspiration traditionnelle en créant de nouvelles pièces assez proches de la forme qu'utilisaient les anciens porteurs de tradition. En reprenant le flambeau de cette bien aimée tradition ils procèdent malgré eux à sa transformation en jouant de leur invention dans le paysage du retour aux sources, toujours à l'affût de nouvelles pièces à composer et d'occasions de célébrer chansons et musique dans cette tradition du merveilleux quotidien. Souvent, ils bâtissent leur propre version d'une ancienne chanson ou carrément invente une histoire et une musique nouvelle pour coller au texte.
Parfois intimiste, la musique de Dentdelion est toujours énergique et apparait souvent plus dense que la somme de ses composantes. L'étiquette est purement québécoise : cet air endiablé des violons arrondi par une coulante flûte, tricoté à la mandoline ou crocheté au banjo, enrobé de guitare, roulant sur l'accord du pied.
Dentdelion a nouri son public de sa salade sonore au Québec, dans des festivals maritimes, aux États-Unis et plus récemment (en format trio) sur les scènes en France et en Espagne. Les plus jeunes du groupe sont eux-mêmes des vétérans de la scène depuis l'enfance, ayant déjà fait des spectacles au Québec, en Écosse, au Canada et aux États-Unis.