single video
No 80 – La Valse de Pâques – Béatrix Méthé & Dana Whittle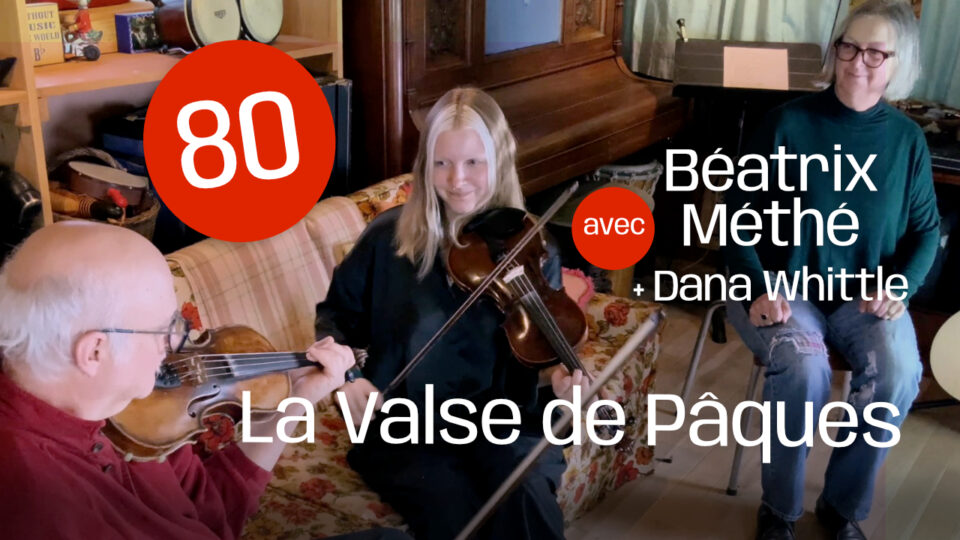 Avec Béatrix Méthé et Dana Whittle. Une valse à mesures étranges. Il existe des valses à deux temps, aussi à cinq temps (comme Take Five de Dave Brubeck), mais le plus souvent, elle a trois temps, sauf celle de Jacques Brel qui a tous les temps (voir lien ci-bas). Celle-ci nous vient de la Gaspésie, du violoneux Édouard Richard, qui l'a apprise de son grand-père dès l'âge huit ans. J'aurais bien aimé voir ce qu'on y dansait en s'amusant à sauter des temps.
With Béatrix Méthé and Dana Whittle. A waltz with curious measures. There are two-beat and five-beat waltzes (like Take Five by Dave Brubeck), but most often, the tempo is in threes… except for perhaps Jacques Brel's "La Valse à Mille Temps" which has everything (linked below)! This one comes to us from Gaspé fiddler Édouard Richard, who played it with his grandfather starting at the age of eight. I would have liked to see how they handled the crazy tempo while dancing to this.
Jacques Brel / La Valse à mille temps – https://youtube.com/shorts/YvZa8A16UH8
MUSIQUE traditionnelle. VIDÉO © Vizou / Dana Whittle. Musique thématique avec un petit clin d'oeil à la tradition. Theme music with a nod to tradition.