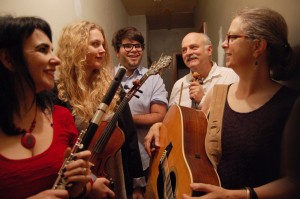 Claude Méthé fiddle, guitar, vocals | Dana Whittle guitar, vocals, foot percussion, accordion | Denise Levac flute, vocals | Colin Savoie-Levac banjo, mandolin, guitar mandola, foot percussion, vocals | Béatrix Méthé fiddle, vocals
Folk-trad "family band" Dentdelion is a playful bend in the tangled roots of traditional Québécois music. While solidly rooted in Québec tradition, the group remains open to new ideas that keep this vibrant lineage alive and kicking. Dentdelion borrows its name from the plant – dandelion, or "pissenlit" in Québec French (a reference to its diuretic medicinal qualities). Like our ancestors, this flower originally came from far away to be planted in North American soil where she has toughed the climate and resolutely reseeded with each gust of wind.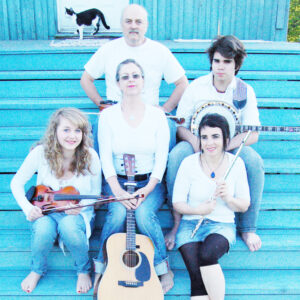 From its beginnings in 1994, Dentdelion has been an amalgam of personal cultures : those of Claude Méthé (Québec) and Dana Whittle (New England). They've since been joined by Denise Levac, veteran trad flutist from Québec's musically rich Lanaudière region and more recently by a new generation comprised of the young and talented Colin Savoie-Levac (son of Denise) and Béatrix Méthé (daughter of Claude and Dana). The trio live in this region, considered by most to be a sanctuary for traditional Québécois music, which is being recognized more and more for its beauty and many qualities that include a refreshingly simple form but complex execution; music that breathes unequivocal spontaneity and vibrancy.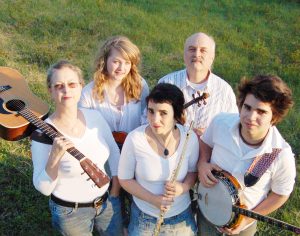 Dentdelion's emphasis is on original music that is heavily inspired by tradition, with familiar form and delivery – rejigs of centuries-old songs, brand-new ones created from scratch or melodies melded with lyrics with long-forgotten melodies. Picking up the tradition where it left off, Dentdelion heads into what is perhaps best described as "folk-trad" territory – strictly due to its newness – yet they never stray far from the essential Québec sound with its omni-present fiddle, tapping feet and unique swing. Guitar accompaniment, flute, vocal harmonies, a capella arrangements, the raw and the refined come together to create a rich sound that is both intimate and energized, seemingly bigger than the sum of its parts and definitively, unescapably Québécois! Dentdelion has brought their fresh sound to audiences in Québec, Canada, the US and Europe.