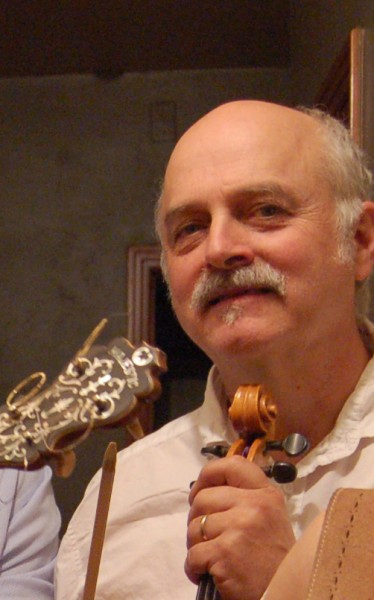 Violoneux, chanteur, compositeur trad
Claude Méthé joue et chante la musique traditionnelle québécoise depuis 1974. Musicien autodidacte, il a fait sa marque comme violoneux et chanteur sur la scène trad québécoise. Il compte des années comme membre de groupes qui ont laissé leurs empreintes dans la renaissance de la musique traditionnelle au Québec : le Rêve du Diable, Manigance, Dentdelion, Ni Sarpe Ni Branche, Entourloupe et d'autres.
« La meilleure, et d'ailleurs la seule façon d'être fidèle à la tradition, c'est de l'inventer. »
Fiddler, singer, composer Claude Méthé has played traditional Québécois music since 1974. Self-taught, he has made a lasting mark as a fiddler and singer on Québec's vibrant trad scene. During this time, he has been a member of numerous groups who have left their imprint on the renaissance of traditional music : Le Rêve du Diable, Manigance, Dentdelion, Ni Sarpe Ni Branche, Entourloupe and others.
« The best – in fact the only way – to be true to the tradition is to invent it yourself. »
Sur le calendrier
28 Avr 2017

Zigue Le Talbert / Pleubian,

(FR)

.

Apéro concert, 21h. Info : 02 96 22 93 80.

06 Mai 2017

Zigue La Yourtilliére / Le Saint, Bretagne

(FR)

.

À 19h00. Infos mailto:simone66@orange.fr, tél. 0638826078

12 Mai 2017

Zigue Mission Bretonne / Ti Ar Vretoned / Paris,

(FR)

.

Fête de la Bretagne, 20h30.

13 Mai 2017

Zigue La Librairie du Québec / Paris,

(FR)

.

À 15h30. Infos : Tél 01.43.54.49.02 :libraires@librairieduquebec.fr.

26 Mai 2017

Zigue Annual Farewell Reunion / Sheldon, VT

(US)

.

With additional Tradnation artists to be announced. Proceeds from the concert help the Tom Sustic Fund, which supports families with children who have life-threatening/life-altering conditions

09 Juin 2017

Zigue Festival Violon Traditionnel Sutton / Sutton, QC

(CA)

.

Soirée bénéfice pour le festival 2017 (17-19 août). Avec Pascal Gemme et d'autres artistes.